Due to injuries Sharon / Mutual has been forced to cancel the game with us scheduled for this Thursday October 5, 2023. This was our scheduled Homecoming Game. We will move Homecoming to the DCLA game on Friday October 20. This will also be Senior Night for Football, Softball, and Cheerleading. Leave a Legacy! Bobcat Pride!!



Tyrone Public Schools would like to invite all our Tyrone Family to Bobcat Field on September 22 as we honor Mr. Lewis Harrison. We will have a special presentation at 6:45 before the Tyrone vs. Buffalo game. Bobcat Pride!

The Oklahoma State Department of Health is providing all our students with a Heathy Hand Washing Kit. These kits include Sani-wipes, band-aids, lotion, and other items. These kits will be going home today at the end of school. We would like to thank the OSDH for their donation.

The Tyrone After PROM committee will be selling Elementary Football buttons for $5.00 each. The pictures will be taken on Thursday September 21. The money for the buttons will be due at this time.

September 18, 2023 Tonight's Elementary Football game will begin at 6:00PM Leave a Legacy! Bobcat Pride!!

Attention Bobcat Fans The Tyrone vs. Sharon / Mutual Game previously scheduled for October 6 has been moved to October 5th due to problems getting official crews. This will be our Home Coming Game. All activities associated with the Homecoming game will be on Thursday instead of Friday. The Parade will start around 2:00PM on Thursday with Pep Ralley to follow at Bobcat Field. Leave A Legacy! Bobcat Pride!!


Texas County Health on the Go Information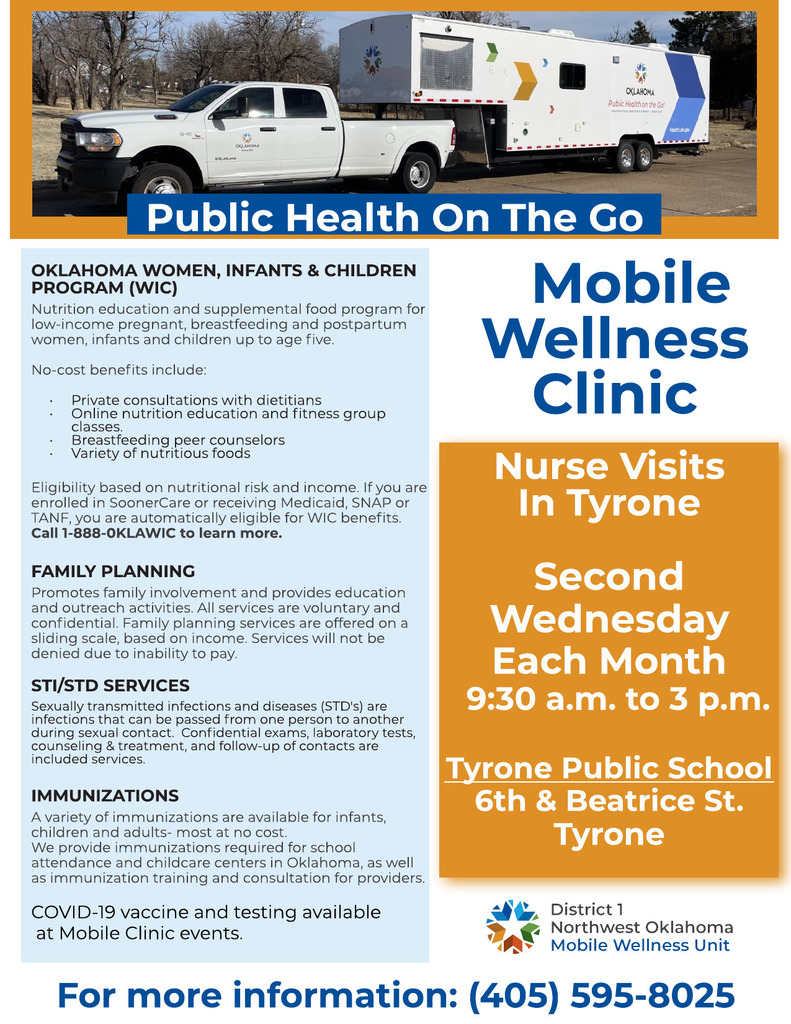 Tyrone Public Schools is in the process of adding Electronic Gaming to our course of studies. Egaming is a growing opportunity for students as most colleges now offer Egaming. We are looking for donations or gently used equipment to purchase that would help with making our program as great as it can be. Consoles such as Xbox series X or S, Playstation 4 or 5, or gaming computers or laptops would be extremely helpful. If you have any of these items please contact the Egaming coach Donovan Smith at (580) 854-6298 or
dsmith@tyronebobcats.org
Leave a Legacy! Bobcat Pride!

Dear Tyrone Community, It is with heavy hearts that we come together to remember and honor the life of Larry Cornelson. Larry was a dedicated member of our community for many years. As a longtime supporter of the Bobcats, Larry was often seen at many school events cheering on his kids or grandkids. Beyond his role as a fan, Larry's contributions to the Tyrone Board of Education were instrumental in shaping the direction of our school and ensuring a bright future for generations to come. Let us offer our support and condolences to Larry's family and loved ones. Josh Bell Superintendent

Softball Fund Raiser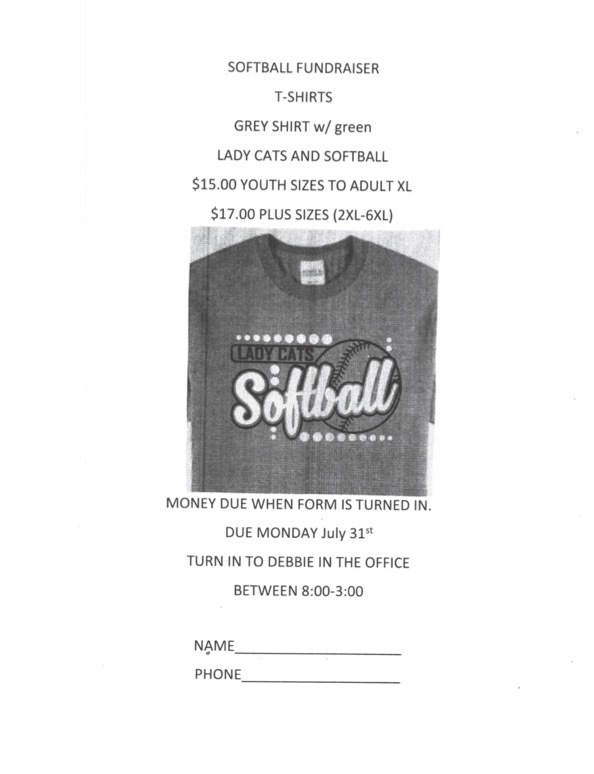 Enrollment Information for the 2023 2024 school year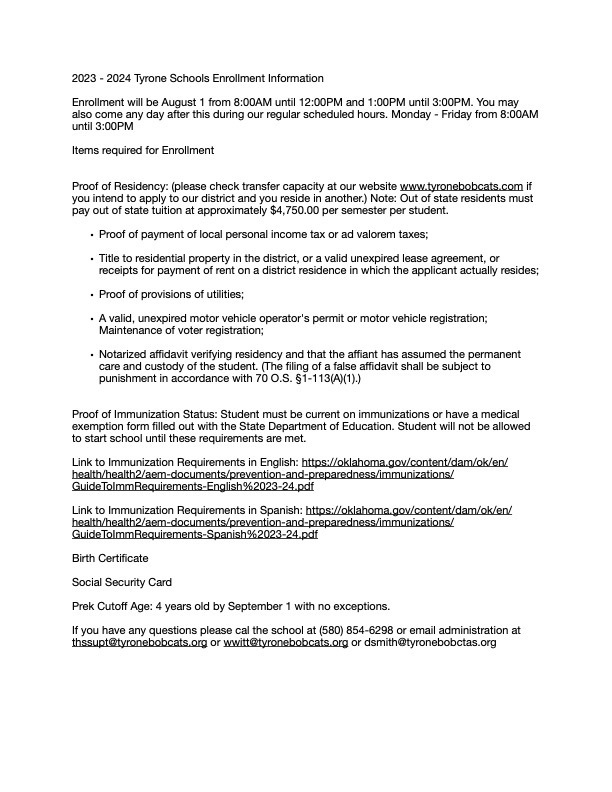 Supply Lists for JH and HS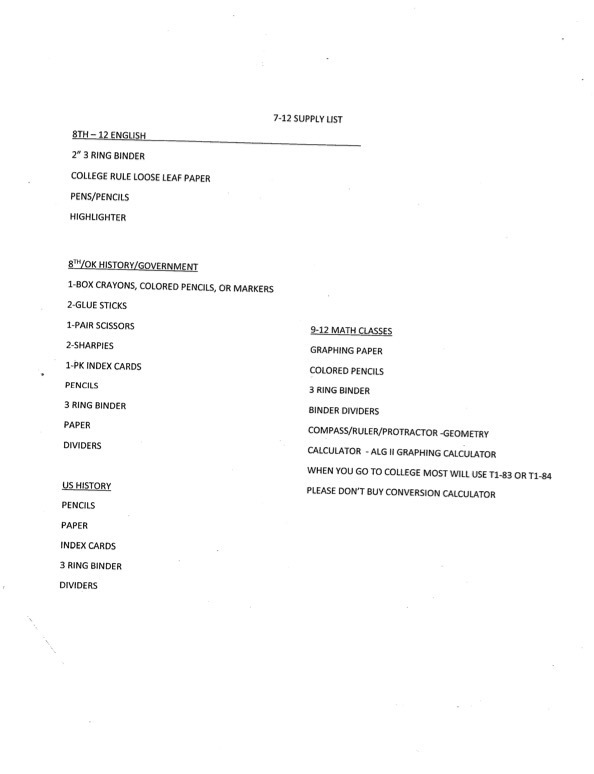 Supply Lists for grades 3 - 6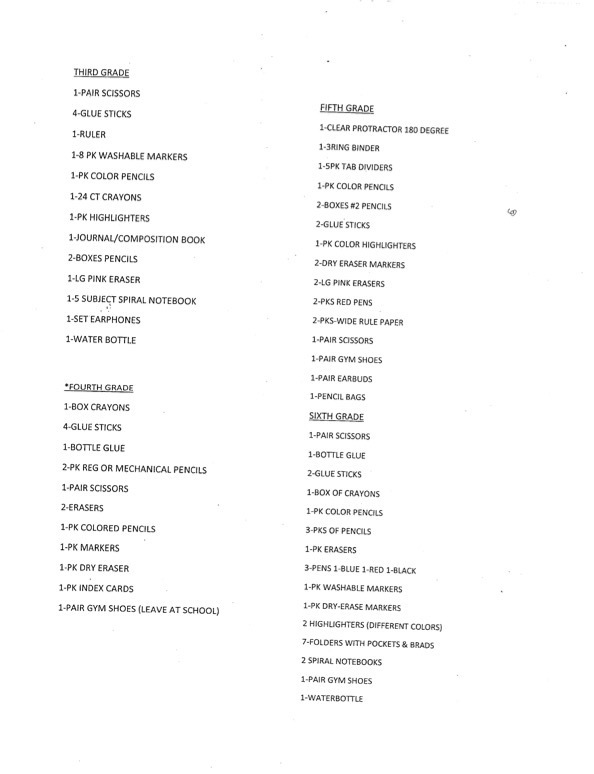 Prek - 2 Supply List

Back to school immunization information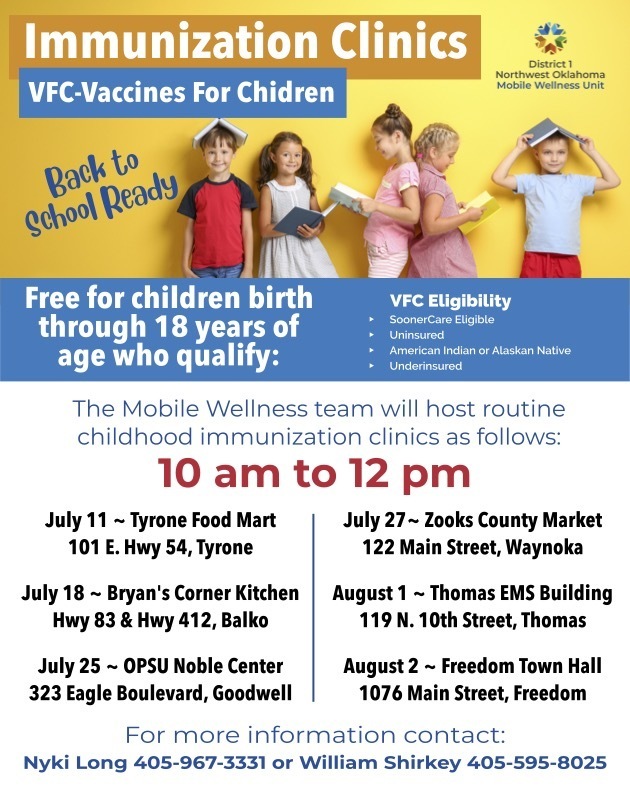 Back to school bash information.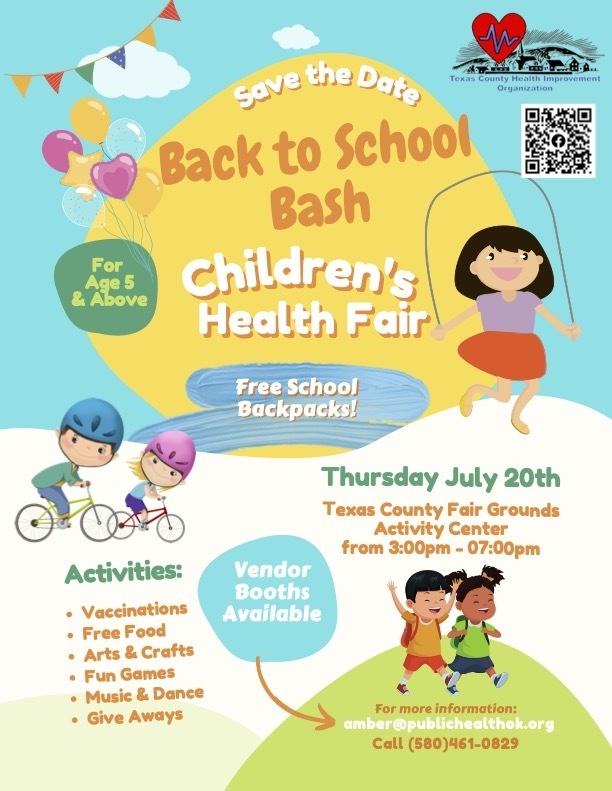 Girls 2022 - 2023 All Conference Team