Texas County Health On The Go will be at Tyrone Schools on August 2, 2022 for and enrollment Clinic. Information is located in the attached Flyer.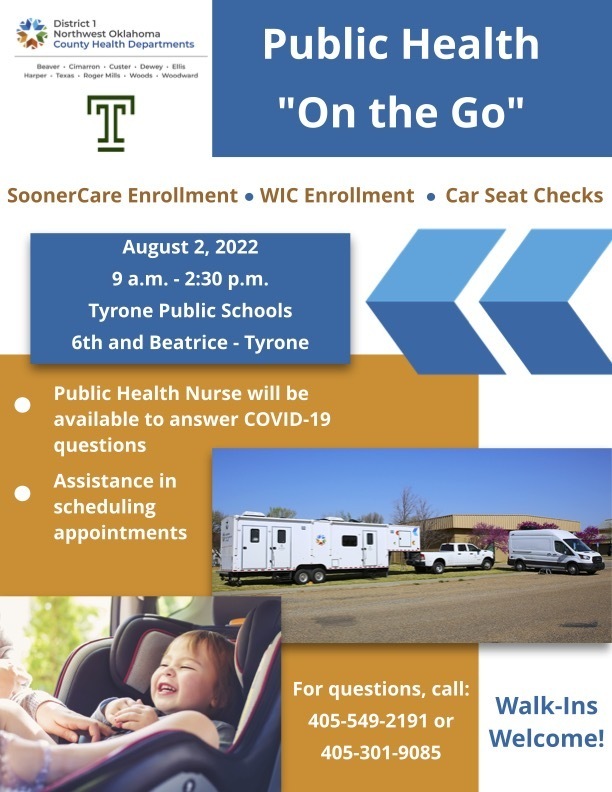 Nurse Visit Clinic Information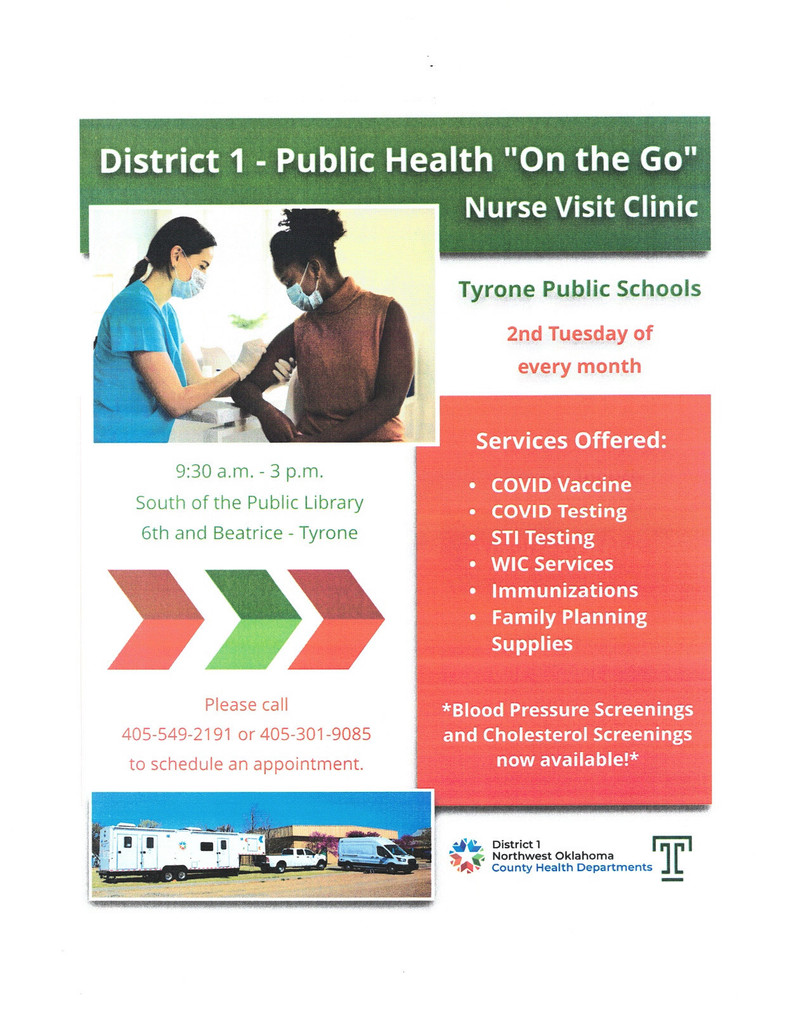 Reminder: Open Enrollment will be Tuesday August 2, 2022 from 8:00AM until 12:00PM and 1:00 until 3:00PM Things to bring: Shot Records, Birth Certificates, and Social Security Cards. Bobcat Pride!

Reminder: Texas County Health on the Go will be at the Tyrone Public School library from 9:30 today through 3:00 today July 20, 2022.

Reminder: Oklahoma law requires all students to be vaccinated and current on shots to enroll in a public school. A religious waiver is acceptable. The Texas Count Public Health "On The Go" mobile unit will be having a vaccination clinic July 20, 2022 at Tyrone School Library from 12:30PM until 3:00PM. This is for students without insurance and is by appointment only. Please call 405.549.2191 or 405.301.9085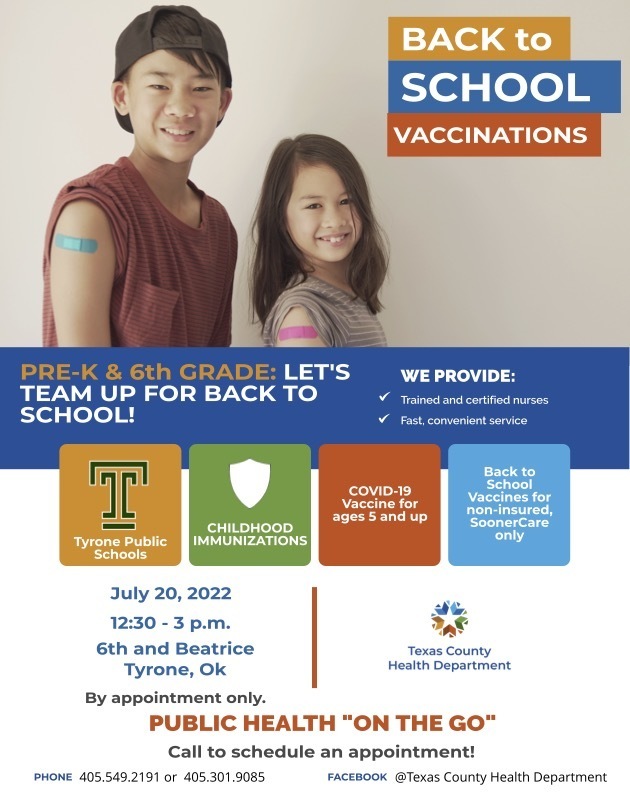 Attention students in grades 9 - 12: starting Monday July 18 - July 22 you may come in and visit with Mr. Witt or Mr. Smith about your schedule and enrollment for the 2022 - 2023 school year. We will be in office and available from 8:00 - 12:00PM and 1:00PM until 3:00PM. Please note we will be out of office the next week July 25 - 29. Bobcat Pride!

The Tyrone Cafeteria is getting cleaned and waxed for the new school year. The new gym will be closed from today, July 15 through July 24. thanks for your understanding! Bobcat Pride!

August 10, 2022 Booster Club Meeting @ 6:30 in the Library

This summer's OSSAA dead week period is July 2 - July 10, 2022. The dead period will occur during the week in July that includes the 4th of July each year, and is nine days in length. • Secondary-level students enrolled or pre-enrolled students (7th-12th grade) at a member school may not use any member school's athletic facilities during the dead period in connection with any athletic activity governed by the OSSAA. • Member school coaches, assistant coaches, and sponsors may not have any contact with secondary-level enrolled or pre-enrolled students in that member school in any athletic activity governed by the OSSAA for the purpose of coaching, training or instructing. Enjoy your break! Bobcat Pride!

Immunization Clinic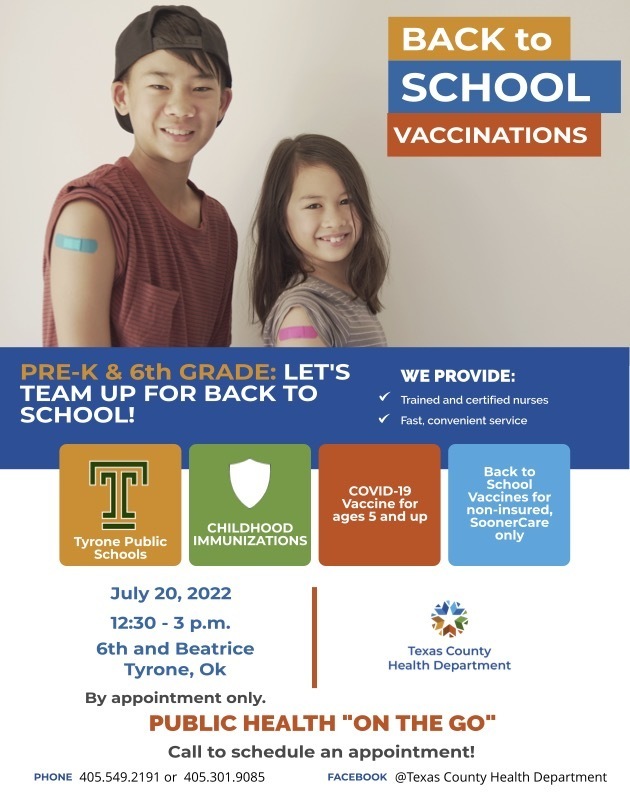 Attention Parents and Students: 5-6 conditioning will be Wednesday and Thursday next week. 7-12 will be normal times. Mrs. Duty will have it open as all other coaches will be gone to camp!

Attention Athletes: The weight room will be closed until Monday May 16th. The new equipment will be installed over the weekend! BOBCAT PRIDE!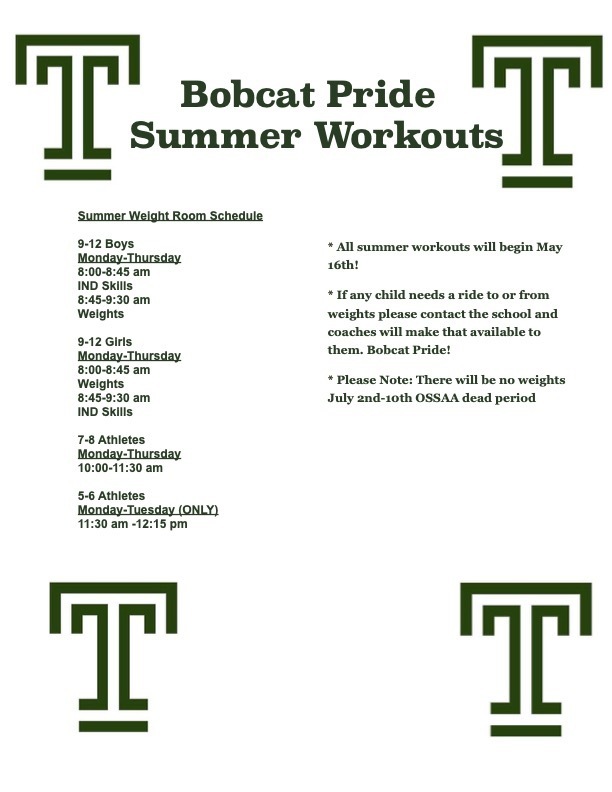 Tyrone Public Schools is honored to announce Liberal native and current Kansas University Football Defensive Analyst, Oscar Rodriguez Jr., as the 2022 Commencement Speaker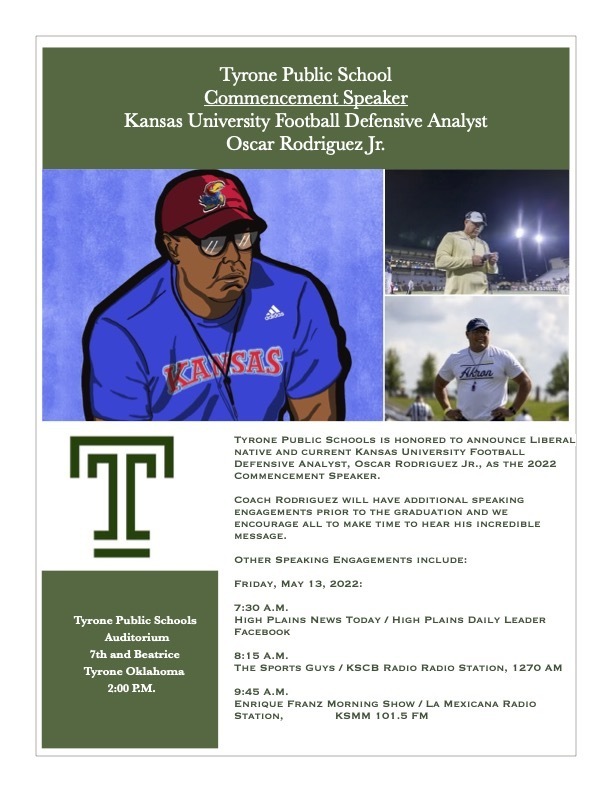 Teacher Appreciation Week Never before has more been asked of teachers, and we're in awe of how you've all stepped up to the challenge! We've all heard stories of teachers going above and beyond to support their students during these crazy times, whether that's setting up lessons, getting creative with your assignments or even driving around town to pick up students.  Without the passion and dedication of teachers like you, Tyrone Public Schools wouldn't be where it is today. You've shared your passion for education with your colleagues, students, and community, given us valuable feedback and -- most of all -- helped your students discover a love of learning.  We can't thank you enough.  Josh Bell Clay Witt Donovan Smith

Come see Tyrone's Arabian Nights Prom tomorrow night! Gym will open for pictures at 6pm Promenade walk starts at 7pm Prom will start at 7:30pm!!

Upcoming Tyrone Health Clinic Information. Please call for an appointment.

Notice: The bus from the elementary / junior high track will be back at approximately 8:15. Bobcat Pride!

Please join the Tyrone Elementary students as they present their 2022 Spring Concert Thursday, March 31, 2022 at 6:30 P.M. in the auditorium. Come support our Bobcats and be entertained!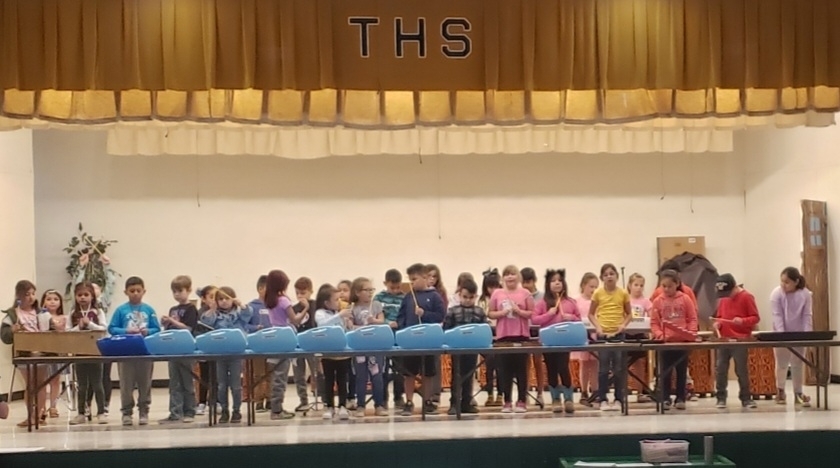 Picture Day is next Wednesday, March 30, 2022. We will be taking elementary class group photos, ALL GS/JH/HS Track, and JH Girls/HS Girls/HS Boys basketball.