Tyrone 2022 Seniors and Senior parents, please watch for scholarship opportunities being sent home and deadlines approaching.

Tyrone Football Playoff shirts are on sale. Order forms are in the office. Short sleeve cotton are $15-$20 or short sleeve dri-fit shirts are $20-$25. Money is due when order is placed.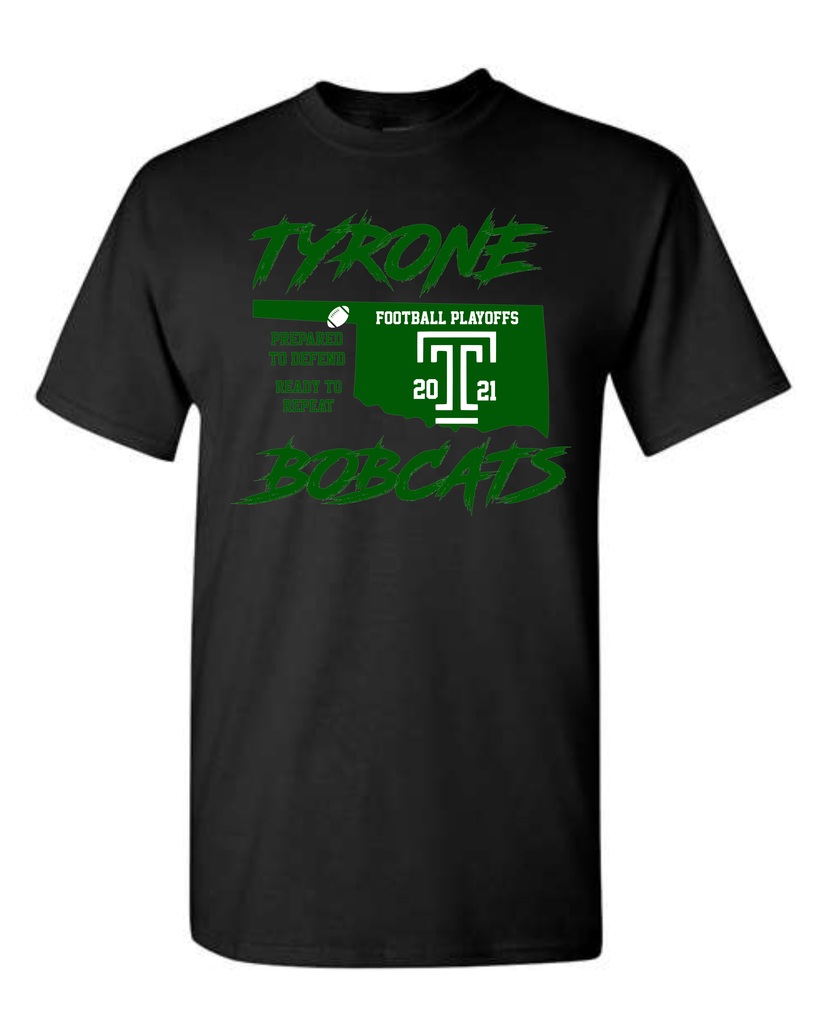 The Tyrone Senior Class has extra Blue & Gold sausage, bacon, and chicken. If you would like to purchase any items, please contact the office at (580) 854-6298.

Dear Parents/Guardians Picture day retakes are this Thursday, November 4, 2021. Any student not photographed on the first picture day will be photographed on Thursday. Any student that is wanting retakes done will need to go to Adair Photography's website and fill out their retake form and pay the $8 retake fee by Wednesday. This fee is for any student wanting retakes, including seniors. This fee is determined by the picture company, not by our school. We have no control over the prices or fees set by the picture company. This company is the only one in our area that agreed to photograph our students, so we have no other choice than to follow their price guidelines. Again the retake fee MUST BE PAID IN ADVANCE on the following site. Estimados padres / tutores Las retomas del día de las fotos son este jueves 4 de noviembre de 2021. Cualquier estudiante que no sea fotografiado el primer día de fotos será fotografiado el jueves. Cualquier estudiante que desee volver a tomar la prueba tendrá que ir al sitio web de Adair Photography, completar su formulario de recuperación y pagar la tarifa de $ 8 para la repetición antes del miércoles. Esta tarifa es para cualquier estudiante que desee volver a tomar la prueba, incluidos los estudiantes del último año. Esta tarifa la determina la compañía de fotografía, no nuestra escuela. No tenemos control sobre los precios o tarifas establecidos por la compañía de fotografías. Esta empresa es la única en nuestra área que aceptó fotografiar a nuestros estudiantes, por lo que no tenemos más remedio que seguir sus pautas de precios. Nuevamente, la tarifa de repetición DEBE PAGARSE POR ANTICIPADO en el siguiente sitio.
https://adairphotography.hhimagehost.com/V2/Home/Organization/tyrone

2021 Balko JH Basketball Tournament Brackets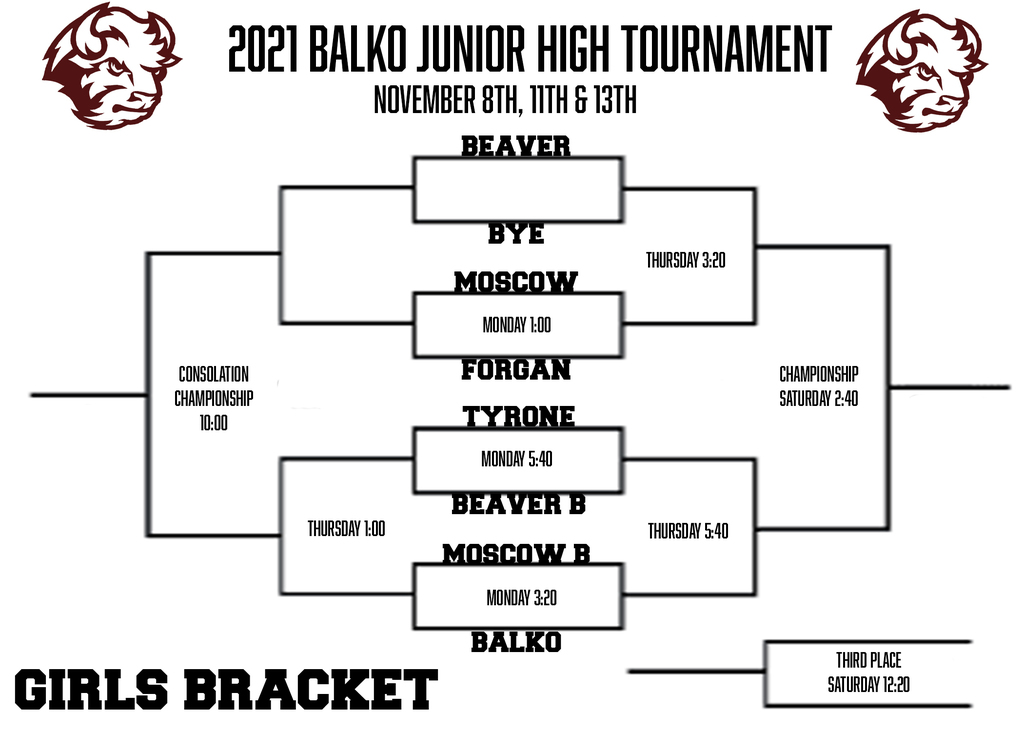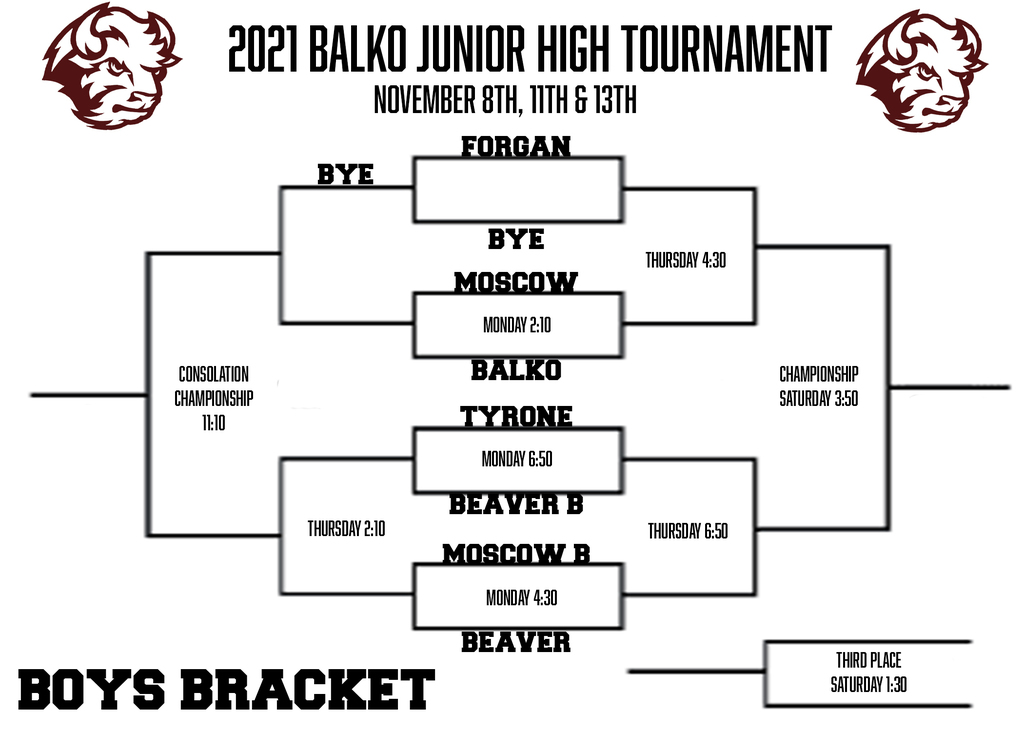 Brackets for the Grade School Basketball Tournament in Forgan. October 25th, 26th, & 28th.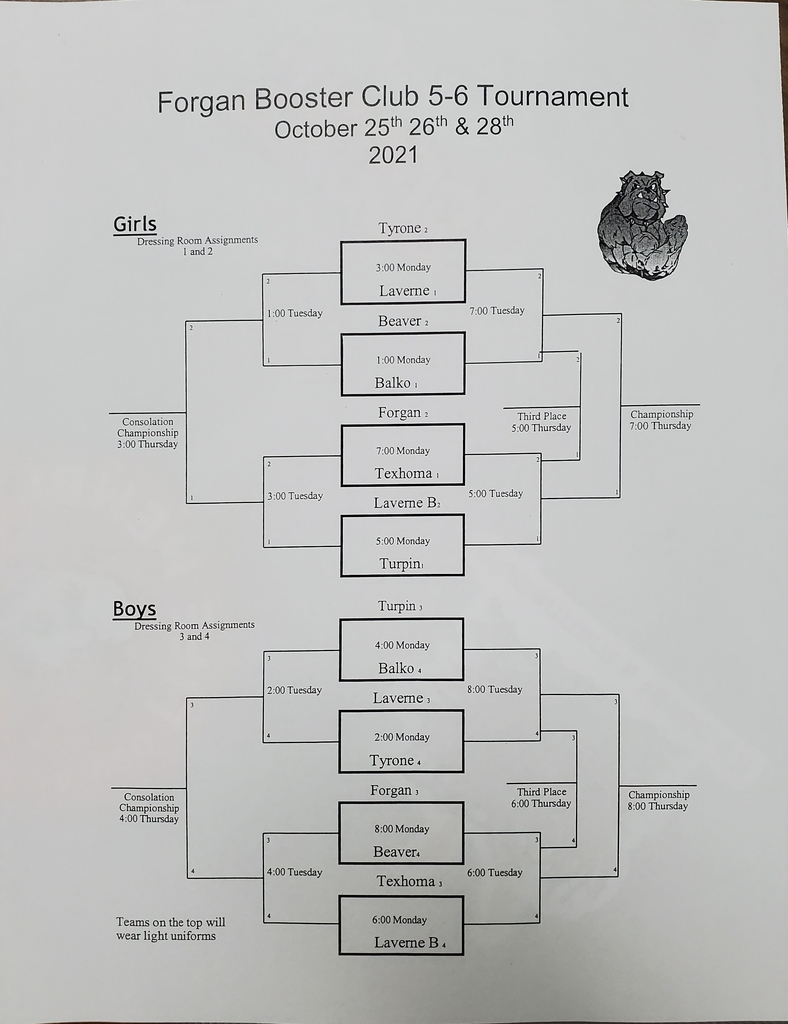 The High School Football game scheduled for this Friday, October 8th is canceled. Geary has chosen to cancel the game due to illness and injury. The game will not be rescheduled.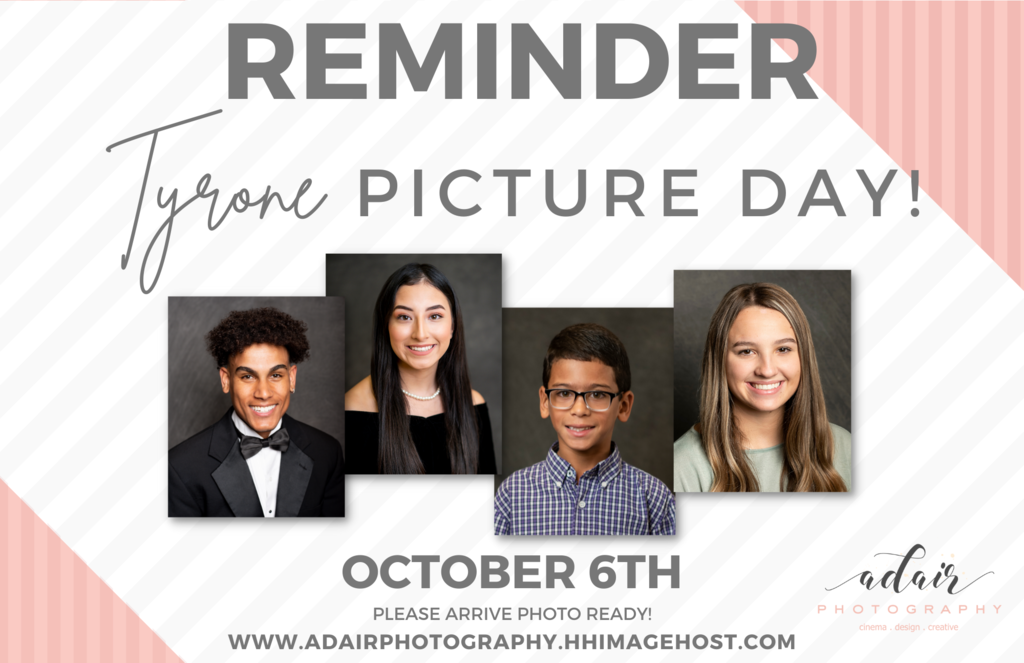 The themes for Homecoming week are as follows: Monday - Blast from the Past (dress up in something from a previous decade) Tuesday - Twin Day Wednesday - Career Day Thursday - Frat Day (dress like someone in a Fraternity/Sorority) Friday - Green & Gold Day

Due to unforseen circumstances, Tyrone Football Homecoming has been moved to next Friday, September 24th. Homecoming activities will begin at 6:30 pm.


Booster Club Watermelon Feed! 7-12 athletes are encouraged to attend the softball games Monday August 16th starting at 4:00p.m. Come out and support the lady cats as they take on Turpin! Watermelon will be provided for athletes! Bobcat Pride!

JH Football Equipment Handout Tuesday, August 10 @ 10am & and @ 5pm.

Booster Club Meeting tonight at 6:30. Meeting will be held in the library.

Parents and students, remember today is enrollment from 8 am till 3 pm except from 12 to 1. Look forward to seeing you!

Tyrone School Fee List Note: Fees are due at enrollment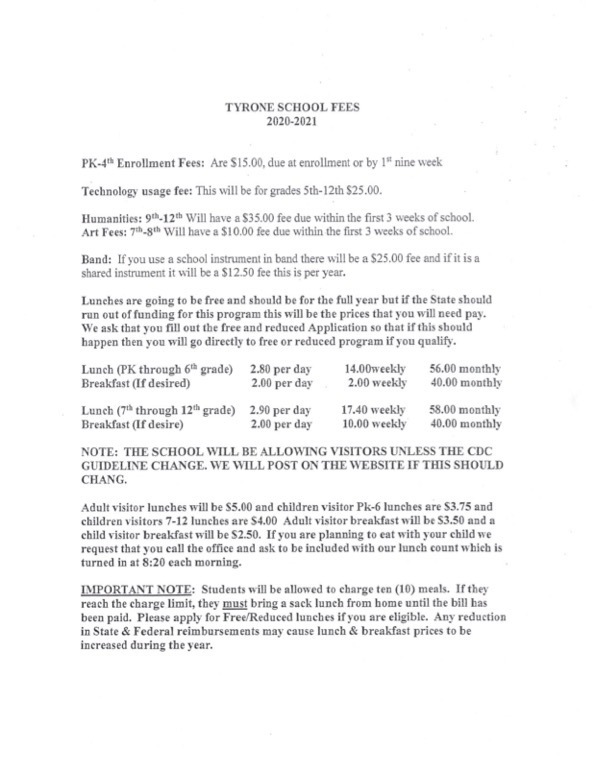 It is with great sadness that we have learned about the passing of Larry Bryan. Larry had been a long time resident of the Tyrone area and served on the Tyrone Board of Education for 10 years during the late 70s and early 80's. On behalf of Tyrone Public Schools I would like to extend our thoughts and prayers to the family during this difficult time. Josh Bell Superintendent