Lady Cats play at 10:00 a.m. and Bobcats play at 6:00 p.m. today in Laverne! Bobcat Pride!

**UPDATED - DELAYED BY ONE DAY** *LAVERNE TOURNAMENT BRACKETS* Please note - Game days have changed to Thursday 12/17, Friday 12/18, & Saturday 12/19 to accommodate school closures due to weather. All game times scheduled for Wednesday will be played at the same time on Thursday.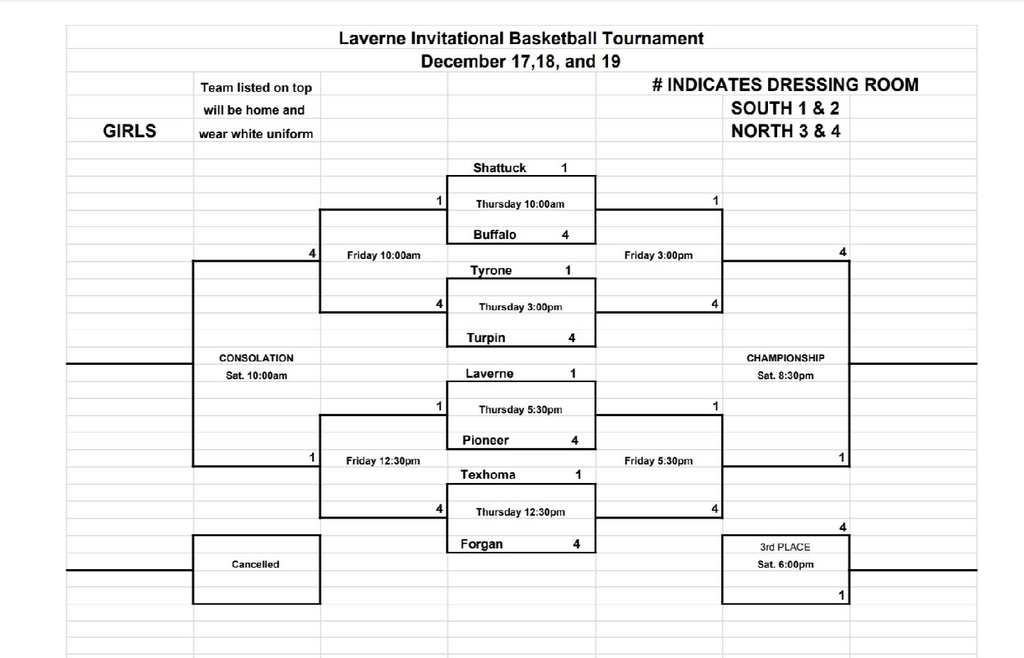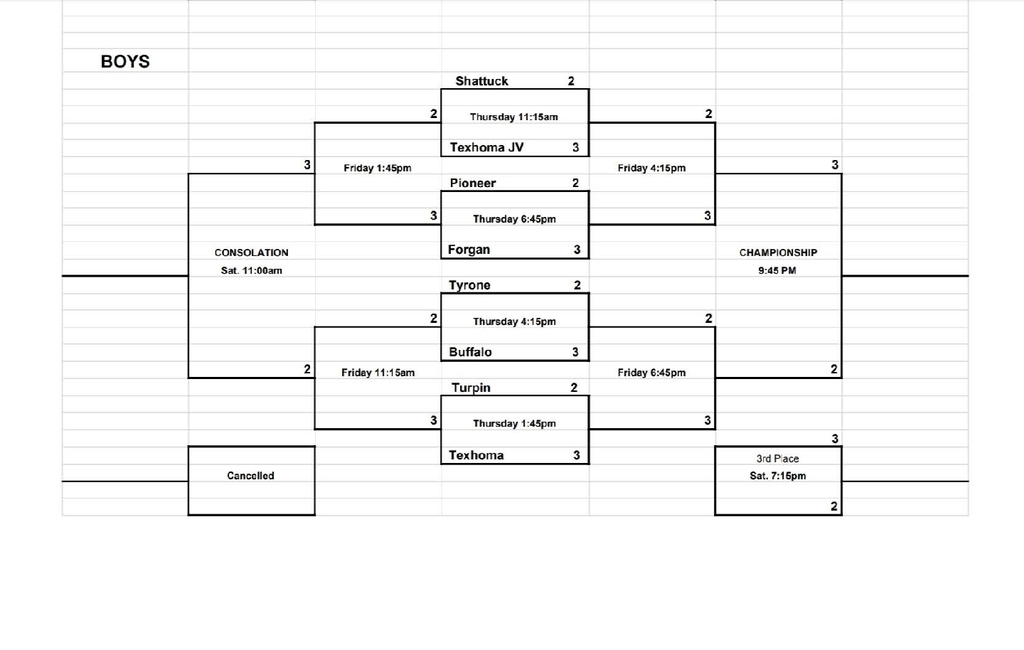 Attention: weather delay for December 16, 2020. In town students will have a normal start time. Out of town students will have a 2 hour delay and start at 10:00. The bus will run tomorrow at 9:00AM. Thank you for your continued support. BOBCAT PRIDE!
Attention: Tyrone Schools will be dismissing early today December 15, 2020 at 12:30PM due to weather conditions. Bus will run at 12:30. You may pick your student up at any time before 12:30 if you wish. thanks for your support BOBCAT PRIDE!

**UPDATE** The JH & HS basketball games against Moscow scheduled for today, December 15th, have been postponed. We will update the calendar when the game is rescheduled.

Please take your time as you travel to school this morning. Some areas could be slick.
Note: December 14, 2020 There is a forecast of Snow for tomorrow Tuesday December 15, 2020. Please stay tuned to the radio and the school's website for any closure. We will update in the morning based on conditions. Thank you as always for your continued support. BOBCAT PRIDE!!!
Tyrone 2020 Home Basketball Policy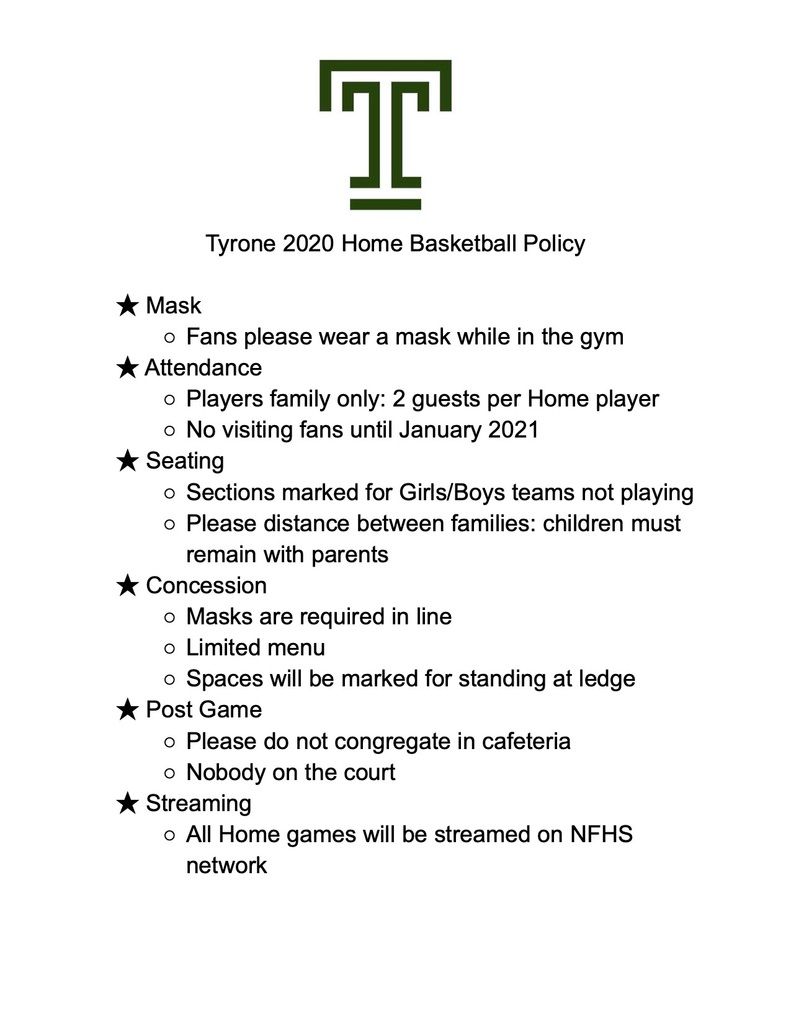 Laverne Tournament Brackets. Please note that games will be played on Wednesday, Thursday, & Friday instead of the usual Thursday, Friday, & Saturday.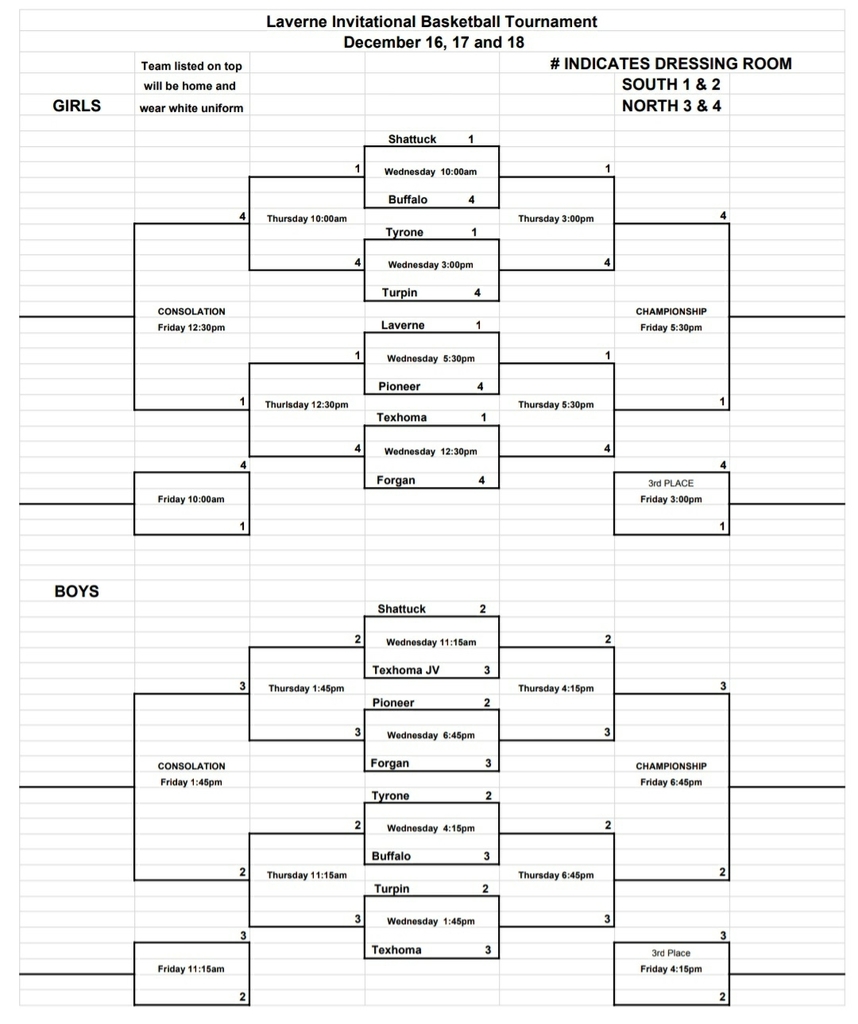 If you lost a pair of glasses at the State Football Game please call the school office.
Covid Report December 14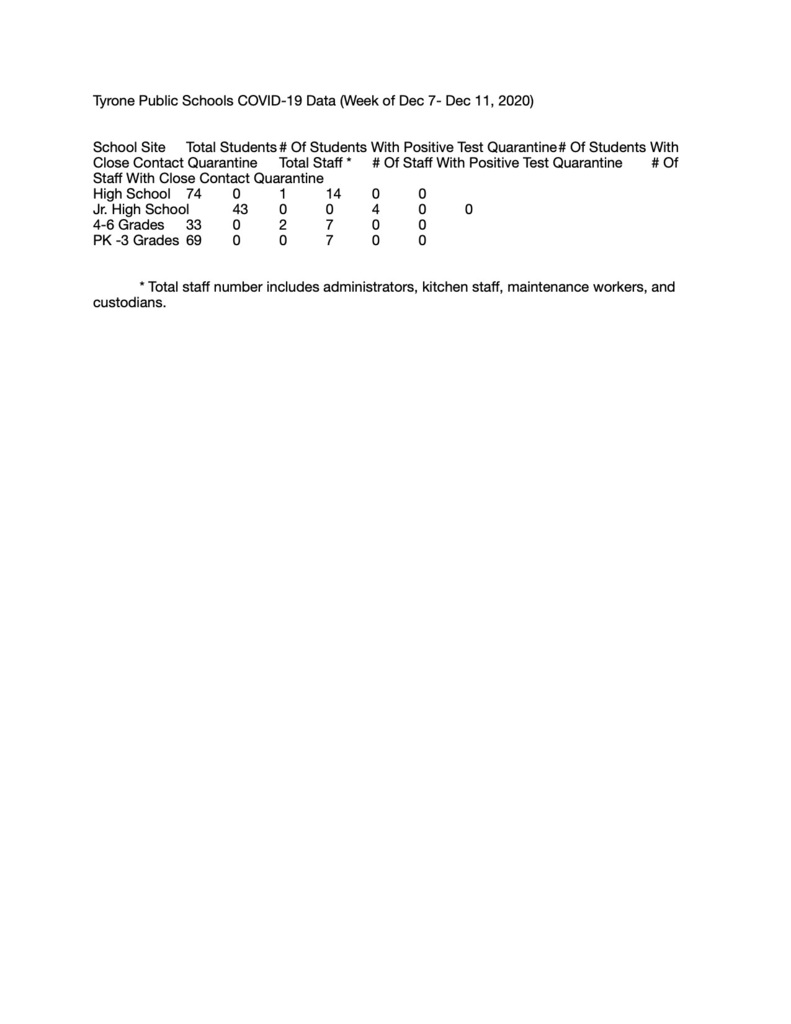 Tyrone family, alumni, and fans Thank you for the overwhelming support during this championship run. As you make your way to Ranger Field please remember the Covid protocols. NWOSU has worked hard to get the 8-man championships. This allows our players to have a great experience and will allow more fans to be at the game. Please wear a mask and follow instructions of the ushers. The OSSAA will stop play of the game to deal with groups not following rules and authorities will remove repeat offenders. This football game is about the athletes. Our players have worked hard to get to this game. Please do not be a distraction to what they are trying to accomplish. Go Bobcats! Find A Way!
Spectator information for the Class C football Championship
Covid Report for week ending December 4, 2020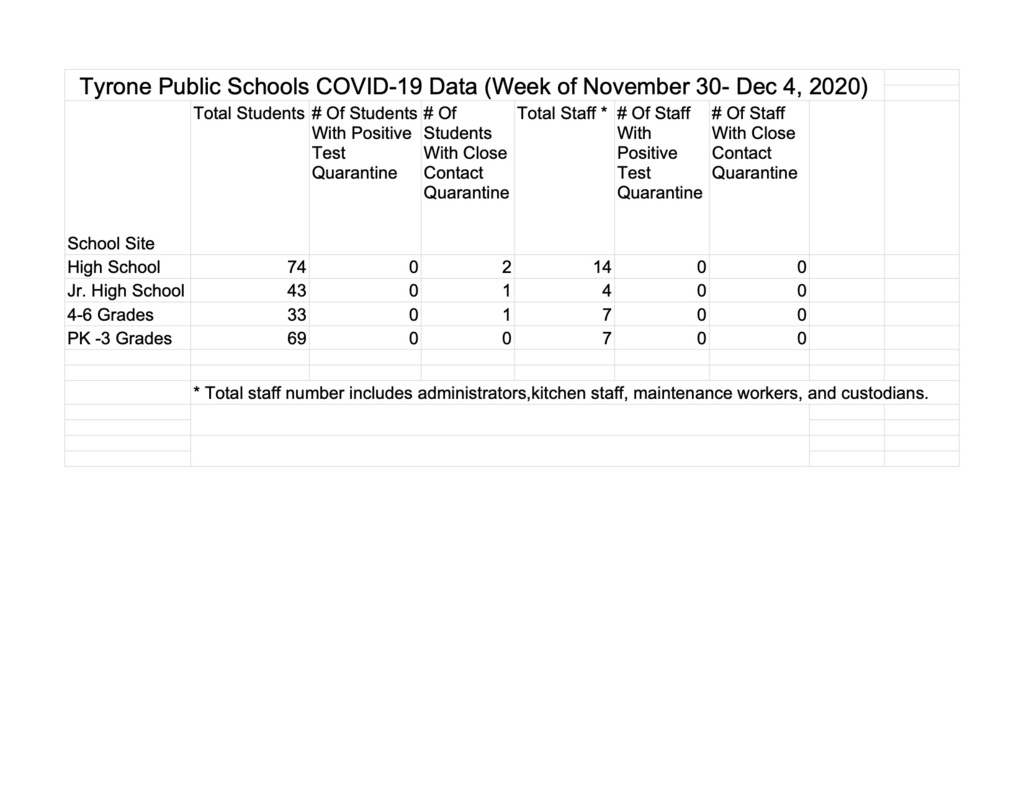 With the high chances of additional snow over night and the already bad road conditions, Tyrone Public Schools will not be in session tomorrow December 3rd. Our student and staff safety will always take priority in these type of decisions. Please stay safe and as always Bobcat Pride!
Dear Parents / Guardians, The Tyrone Varsity Football Team has advanced to the Class C Football Semifinals. This game will be played in Mt. View Oklahoma this Friday at 7:00P.M. In order for the staff and community to make it to the game on time we will dismiss school on Friday at 12:30P.M. Please make arrangements to pick up students at this time. We would like to parade our team out of town on Thursday at 5:00P.M. The bus will follow our normal parade route down Florence. Please line up along Florence Street and show your support for your Hometown Bobcats! This is always an incredible opportunity when any of our teams get to this point. We thank you for your continued support this year and every year. BOBCAT PRIDE!!!!
Tickets go on sale today for this Friday's Home Playoff Game $7.00 Per ticket (adult and child) Contact the school office: will also be available at the gate. Support these Bobcats as advance in the state Playoffs!! BOBCAT PRIDE!!!!
Tyrone Booster Club Meeting Thursday November 19, 2020 6:00PM in the Library BOBCAT PRIDE!!!!
Covid Report for the week ending November 13