The Tyrone Cafeteria is getting cleaned and waxed for the new school year. The new gym will be closed from today, July 15 through July 24. thanks for your understanding! Bobcat Pride!

August 10, 2022 Booster Club Meeting @ 6:30 in the Library

This summer's OSSAA dead week period is July 2 - July 10, 2022. The dead period will occur during the week in July that includes the 4th of July each year, and is nine days in length. • Secondary-level students enrolled or pre-enrolled students (7th-12th grade) at a member school may not use any member school's athletic facilities during the dead period in connection with any athletic activity governed by the OSSAA. • Member school coaches, assistant coaches, and sponsors may not have any contact with secondary-level enrolled or pre-enrolled students in that member school in any athletic activity governed by the OSSAA for the purpose of coaching, training or instructing. Enjoy your break! Bobcat Pride!

Immunization Clinic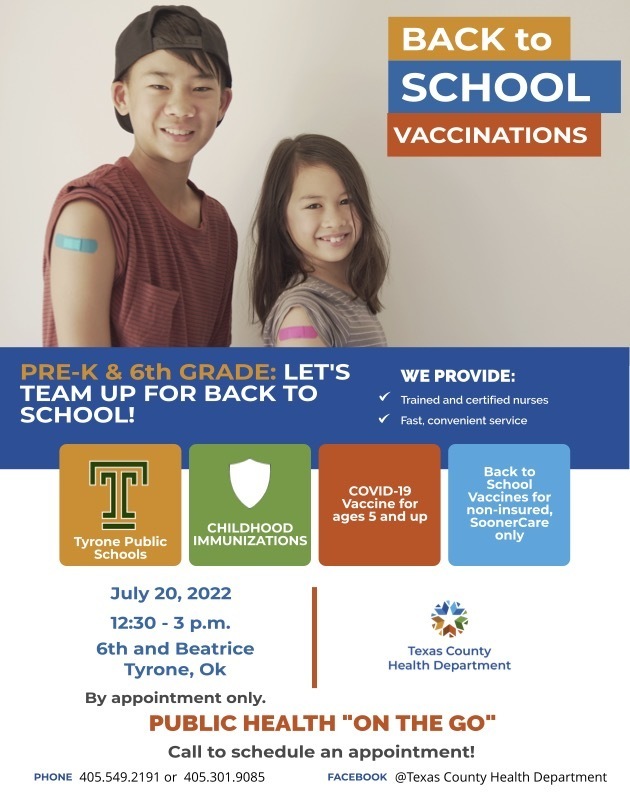 Attention Parents and Students: 5-6 conditioning will be Wednesday and Thursday next week. 7-12 will be normal times. Mrs. Duty will have it open as all other coaches will be gone to camp!

Attention Athletes: The weight room will be closed until Monday May 16th. The new equipment will be installed over the weekend! BOBCAT PRIDE!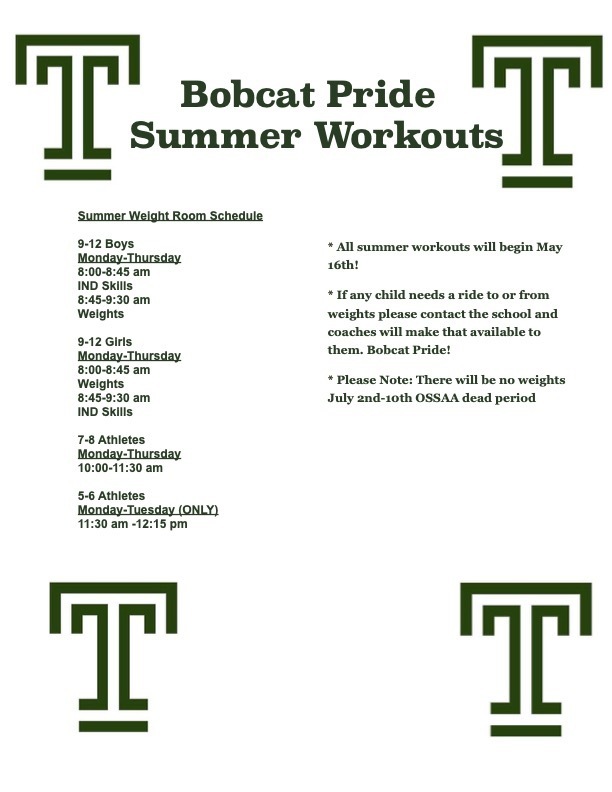 Tyrone Public Schools is honored to announce Liberal native and current Kansas University Football Defensive Analyst, Oscar Rodriguez Jr., as the 2022 Commencement Speaker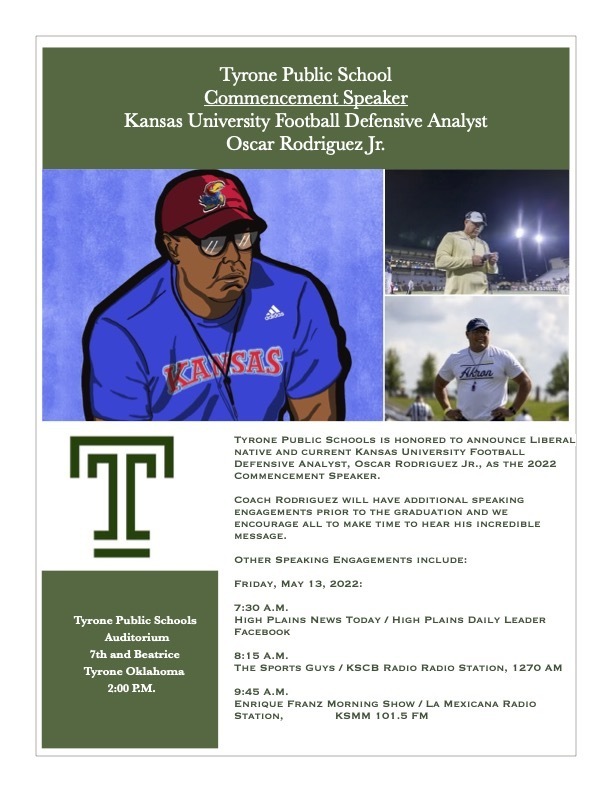 Teacher Appreciation Week Never before has more been asked of teachers, and we're in awe of how you've all stepped up to the challenge! We've all heard stories of teachers going above and beyond to support their students during these crazy times, whether that's setting up lessons, getting creative with your assignments or even driving around town to pick up students.  Without the passion and dedication of teachers like you, Tyrone Public Schools wouldn't be where it is today. You've shared your passion for education with your colleagues, students, and community, given us valuable feedback and -- most of all -- helped your students discover a love of learning.  We can't thank you enough.  Josh Bell Clay Witt Donovan Smith

Come see Tyrone's Arabian Nights Prom tomorrow night! Gym will open for pictures at 6pm Promenade walk starts at 7pm Prom will start at 7:30pm!!

Upcoming Tyrone Health Clinic Information. Please call for an appointment.

Notice: The bus from the elementary / junior high track will be back at approximately 8:15. Bobcat Pride!

Please join the Tyrone Elementary students as they present their 2022 Spring Concert Thursday, March 31, 2022 at 6:30 P.M. in the auditorium. Come support our Bobcats and be entertained!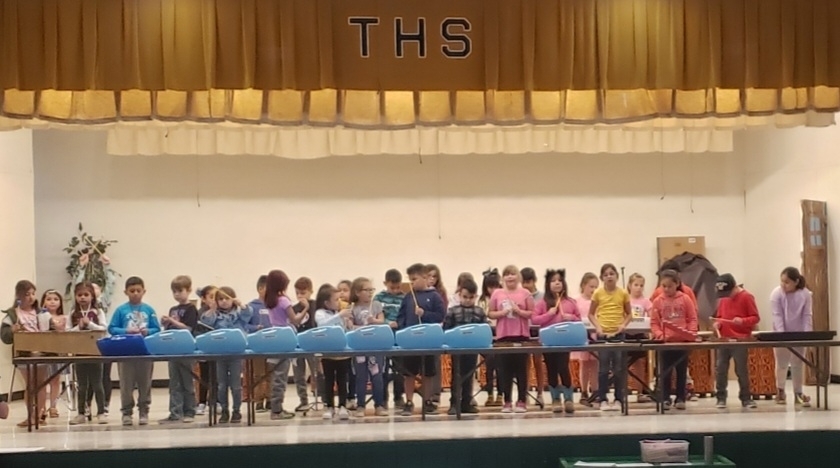 Picture Day is next Wednesday, March 30, 2022. We will be taking elementary class group photos, ALL GS/JH/HS Track, and JH Girls/HS Girls/HS Boys basketball.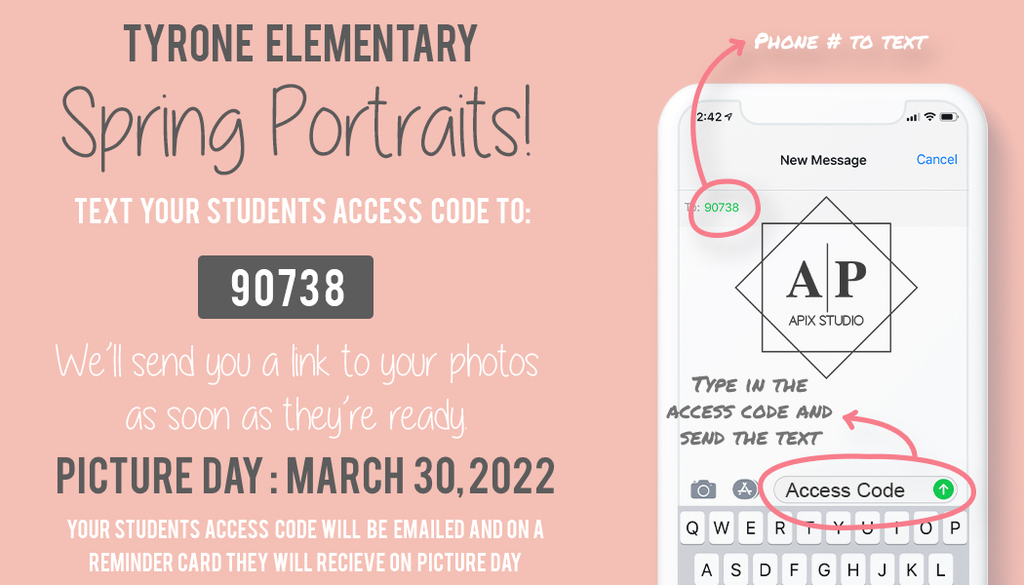 Benefit Dinner Information for Julie Huffman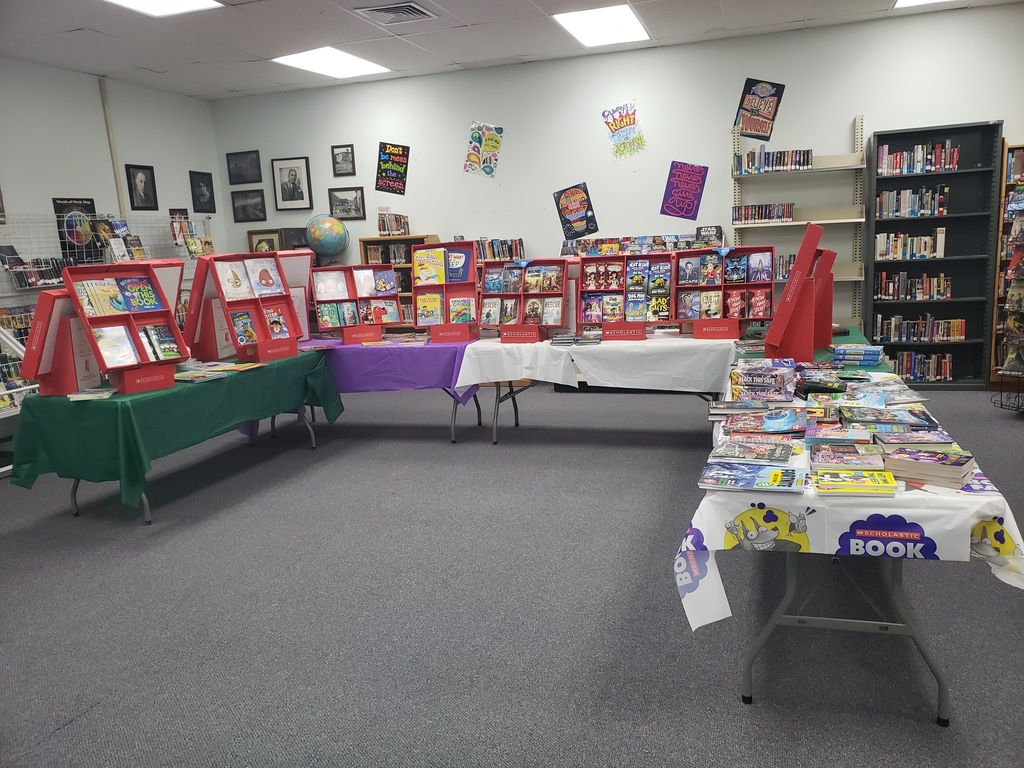 For Immediate Release: Tyrone High School has announced that Josh Bell will be resigning as head football coach. Bell has been at the helm of the Bobcat football program for 19 years. He arrived in 2003. He finishes with a 92-99 overall record for the Bobcats with the last 6 years reflecting a 56-14 mark. Since 2016 the Bobcats have won 3 District Championships, played in 4 state semifinal games and won the school's first state championship in 60 years in 2020. " The support I have received over the years from the community, parents, administration, staff members, coaches of both football and all other activities and players has been appreciated. It has been a wonderful opportunity to have worked with such great young men and I look forward to seeing the successes of what we accomplished through our football program. Those successes will be shown in what kind citizens, husbands, fathers etc… they become over the next 10, 20, 30 years from now. The last 19 years of Bobcat Football have brought me so many amazing memories and I am truly thankful for that. However, the next four years will have all of my attention as my daughter enters high school. As a father, I want to support her dreams and aspirations just like I did for my sons. I will continue to help and support our football team but just in a different role." The next football coach at Tyrone will be no stranger. A 2013 graduate of Tyrone, Payson Slater has accepted the offer to be the next coach of the Bobcats. Slater will officially take over upon board approval at the March meeting. "Firstly, I would just like to congratulate Coach Bell on a long and successful football coaching career. While many people have contributed to the success of the football program over the years, the work started in the early 2000's when Coach Bell laid the groundwork for years to come. Having been able to play for him and now coach under him, it's easy to see why our football program has been so successful. Not just on the field, but in molding great young men. It's a humbling experience when someone like that asks you to replace him as football coach. It's truly a blessing and I look forward to continuing to learn from Coach Bell, as well as Coach Banning and Coach Witt, and continuing to push our program forward. Go Cats!" Tyrone Public Schools would like to thank Mr. Bell for his devotion to our student athletes for the last 19 years. He has put his all into building a very successful program. His constant presence on the sideline will be missed but he has laid the foundation for a successful future.

Parents / Guardians / Students Activities for the week of February 14 After Prom Meeting Tuesday night at 6:30 in the Library for Junior and Senior Parents. No School: Thursday or Friday for the Mid-Winter Break Regional Basketball @ Beaver Thursday. Ladycats Play at 1:30 and Bobcats play @ 8:00 BOBCAT PRIDE!!!

Attention: Junior / Senior Parents There will be a After Prom meeting this coming Tuesday, February 15, 2022, at 6:30PM in the Library

Tyrone Schools will be in session on Friday February 4, 2022. If you live in town and need a ride call the school after 7:30 and someone will come get you.