Tyrone family, alumni, and fans Thank you for the overwhelming support during this championship run. As you make your way to Ranger Field please remember the Covid protocols. NWOSU has worked hard to get the 8-man championships. This allows our players to have a great experience and will allow more fans to be at the game. Please wear a mask and follow instructions of the ushers. The OSSAA will stop play of the game to deal with groups not following rules and authorities will remove repeat offenders. This football game is about the athletes. Our players have worked hard to get to this game. Please do not be a distraction to what they are trying to accomplish. Go Bobcats! Find A Way!
Spectator information for the Class C football Championship
Covid Report for week ending December 4, 2020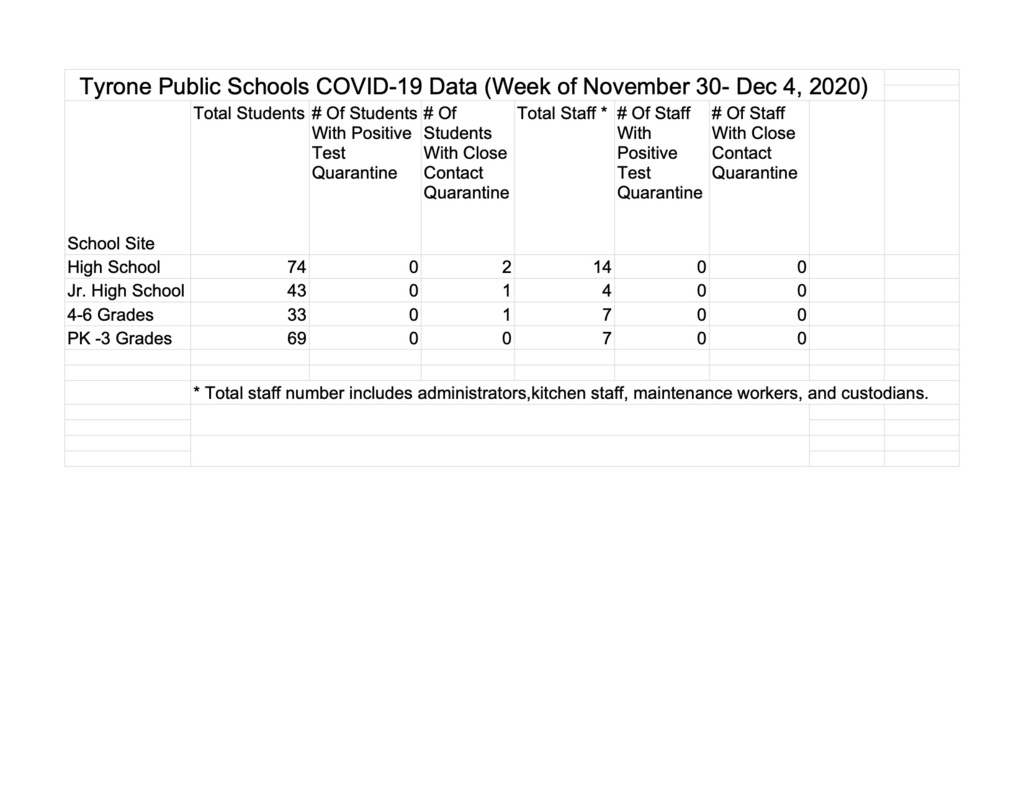 With the high chances of additional snow over night and the already bad road conditions, Tyrone Public Schools will not be in session tomorrow December 3rd. Our student and staff safety will always take priority in these type of decisions. Please stay safe and as always Bobcat Pride!
Dear Parents / Guardians, The Tyrone Varsity Football Team has advanced to the Class C Football Semifinals. This game will be played in Mt. View Oklahoma this Friday at 7:00P.M. In order for the staff and community to make it to the game on time we will dismiss school on Friday at 12:30P.M. Please make arrangements to pick up students at this time. We would like to parade our team out of town on Thursday at 5:00P.M. The bus will follow our normal parade route down Florence. Please line up along Florence Street and show your support for your Hometown Bobcats! This is always an incredible opportunity when any of our teams get to this point. We thank you for your continued support this year and every year. BOBCAT PRIDE!!!!
Tickets go on sale today for this Friday's Home Playoff Game $7.00 Per ticket (adult and child) Contact the school office: will also be available at the gate. Support these Bobcats as advance in the state Playoffs!! BOBCAT PRIDE!!!!
Tyrone Booster Club Meeting Thursday November 19, 2020 6:00PM in the Library BOBCAT PRIDE!!!!
Covid Report for the week ending November 13

Congratulations to Coach Witt and the 7-8 Boys for winning 3rd place in the Balko Tournament! Also, a big congratulations to Coach Banning and the 7-8 girls on their 2nd place finish! Bobcat Pride!
Protocols for Friday's Playoff Game Masks are strongly encouraged in the stands and where social distancing can not be accomplished. Please try to do your best to protect ourselves and our students. Tickets are required for entry. $7.00 per person: adult and children. Tickets can be purchased in advance from the school office or at the gate. Tailgate starts at 5:30PM with BBQ for sale at the booster shack. BOBCAT PRIDE!!!!

HS football playoff bracket. Tyrone will play at 7pm on Friday, November 13th at home.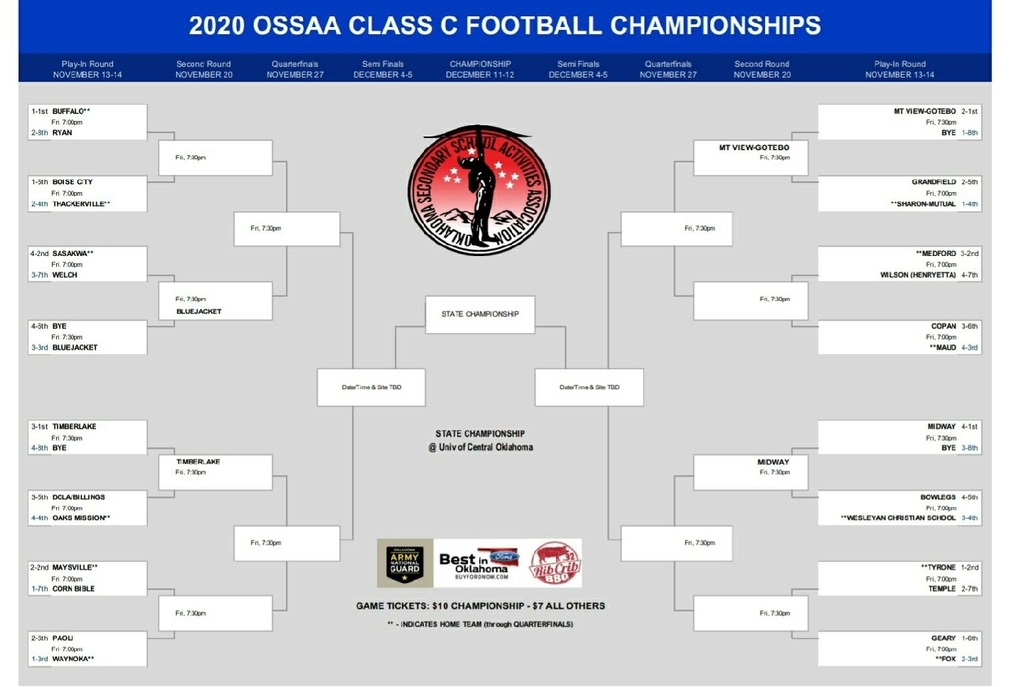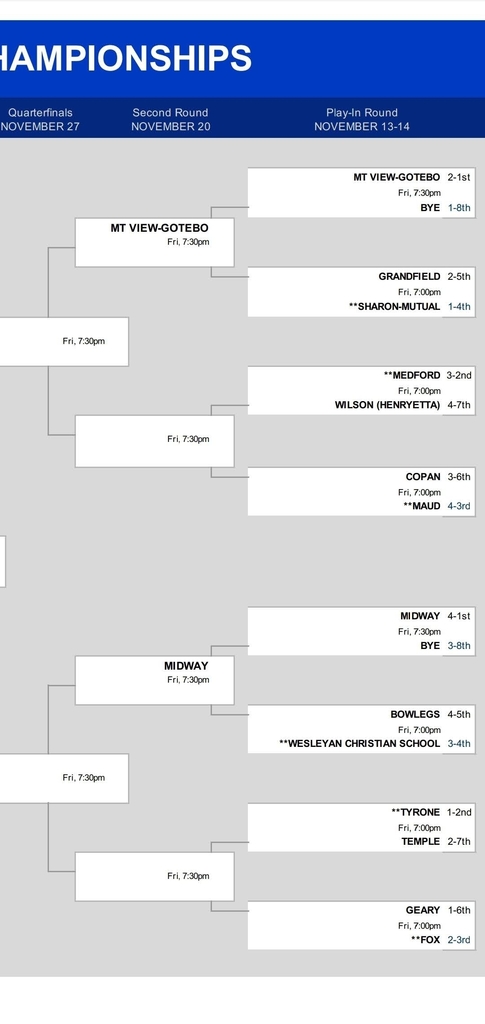 Those students in grades 7 - 12 that are not in quarantine may return from distance learning on Monday November 9, 2020. To our parents and community partners we thank you for your continued support as we navigate this academic school year.

We appreciate the parents' communication with the school that has allowed our district to work to keep our community safe. Through our partnership, our community has been able to limit the total virus infection rate to 8 individuals associated with the school that has tested positive since we have come back to the buildings in face to face education. When we look at the numbers this week that are in quarantine as a precaution, just remember that our partnership is working as the community faces this crisis together. As partners, let's continue to work together to keep our community healthy and safe.


Tyrone Football Playoff shirts are available to order. Short sleeve-$15 & long sleeve-$20. 2XL -6XL add $3. Order forms are being sent home with GS students. Anyone else can place an order through the office or Mrs. Williams. Payment is due when the order is placed.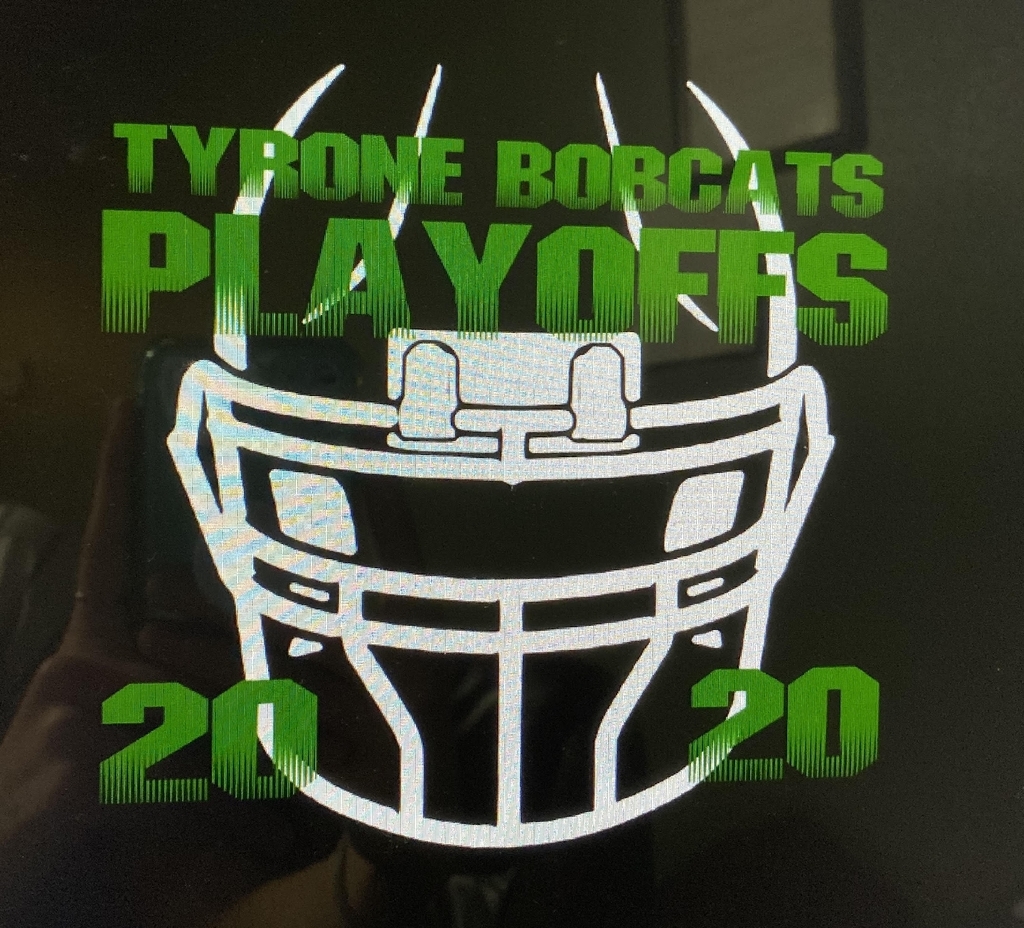 Brackets for the JH Basketball Tournament in Balko November 9th, 12th, & 14th. Both JH teams received a bye on Monday the 9th and will move on to play on Thursday. The girls team will play at 12:20 p.m. and the boys will play directly after the girls at 1:30 p.m.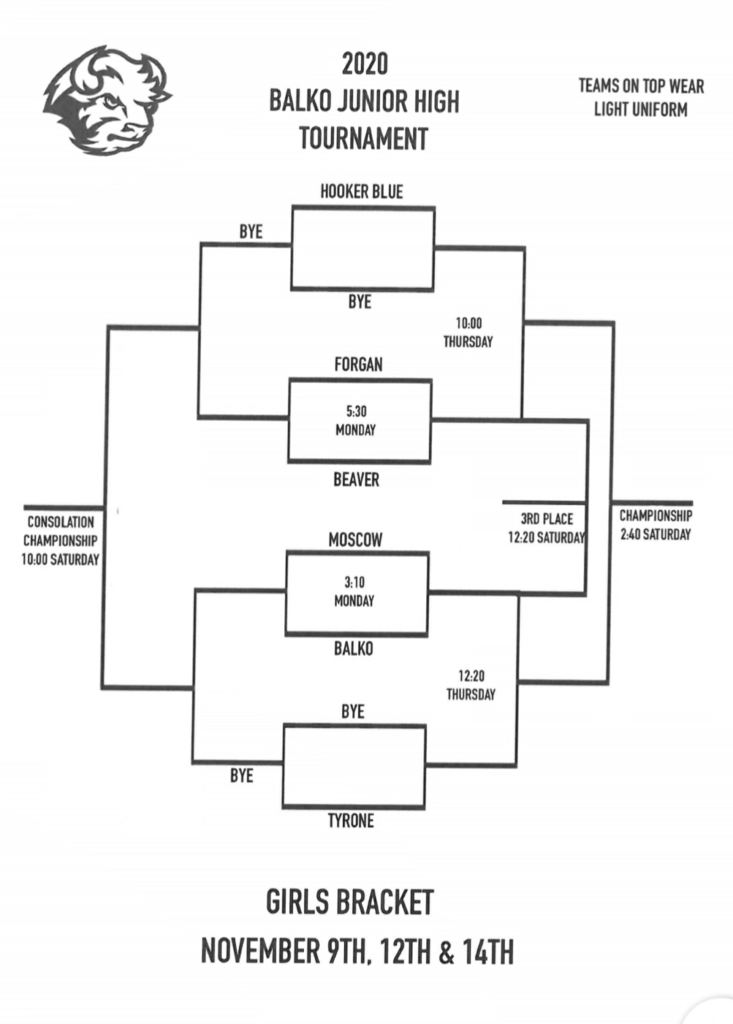 The Football game vs Waynoka Friday November 6th has been cancelled. Our team and coaches are being required to quarantine due to a close contact of a positive individual. We are thankful that are quarantine will end in time for use to play in our first play off game on November 13th. We will keep you posted on who our first opponent in playoffs might be. Bobcat Pride!

Covid-19 Update 11/2/2020

Tyrone Public School Covid-19 Oct 26


We will have school today!!

Another round of winter weather is expected tonight. The potential for significant ice is a big concern. We will make a decision and post Thursday morning by 6 a.m.